The North Face Snuck Ad Photos Into Wikipedia Articles
The outdoor apparel company The North Face is getting slammed today after it boasted of sneaking product placement photos into Wikipedia articles in order to show up as top results in Google Images search results.

The Drum reports that North Face teamed up with the ad agency Leo Burnett Tailor Made for the eyebrow-raising marketing campaign, seen in the 2-minute ad above.
"How can a brand be the first on Google without paying anything for it?" the ad asks. Its answer: Wikipedia photos, since those images often show up as top results for search terms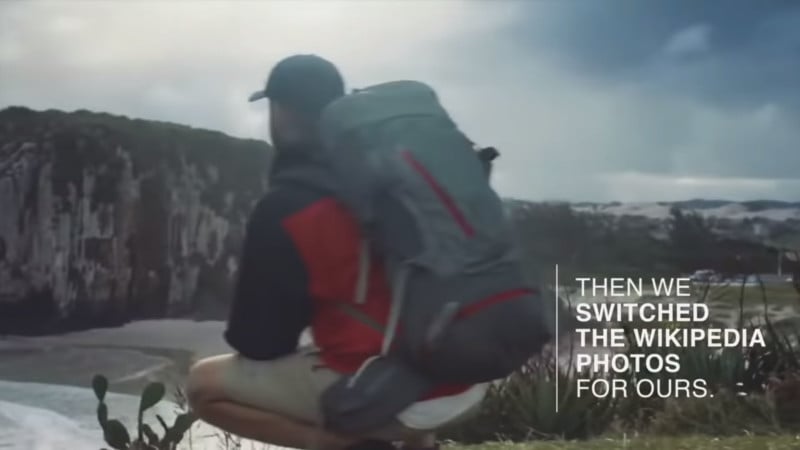 Photographers were sent out into some of the world's most beautiful and famous outdoor landmarks to shoot original photos of those locations.
Prominent photos in the Wikipedia articles were then swapped out for the new ones containing people wearing and using The North Face-branded products.
The "biggest obstacle" was to do the stealthy replacements "without attracting the attention of Wikipedia moderators," the agency tells AdAge.
It seems the effort was a success — the ad photos started showing up at the top of Google Images for many famous spots.
"We hacked the results to reach one of the most difficult places: The top of the world's largest search engine," The North Face says in the ad. "Paying absolutely nothing just by collaborating with Wikipedia.
"Now, every time someone searches for a new adventure, they will find The North Face there."
But as you might expect, the underhanded effort left a sour taste in many mouths, including Wikipedia's. The free encyclopedia took to Twitter yesterday to slam The North Face and its ad campaign, which many are labeling "unethical":
"[W]hat they did was akin to defacing public property," Wikipedia states. "When companies like The North Face take advantage of the trust you have in Wikipedia just to sell you clothes, you should be angry. Their actions have gone directly against the spirit, purpose, and policies of Wikipedia to provide neutral, fact-based knowledge to the world."
The North Face soon issued a public apology and ended the marketing effort.
"Leo Burnett Tailor Made found a unique way to contribute photography of adventure destinations to their respective Wikipedia articles while achieving the goal of elevating those images in search rankings," says the ad agency. "We're always looking for creative ways to meet consumers where they are.
"We've since learned that this effort worked counter to Wikipedia's community guidelines. Understanding the issue, we ended the campaign."