This 826.9MP Photo is the World's Largest Underwater Panorama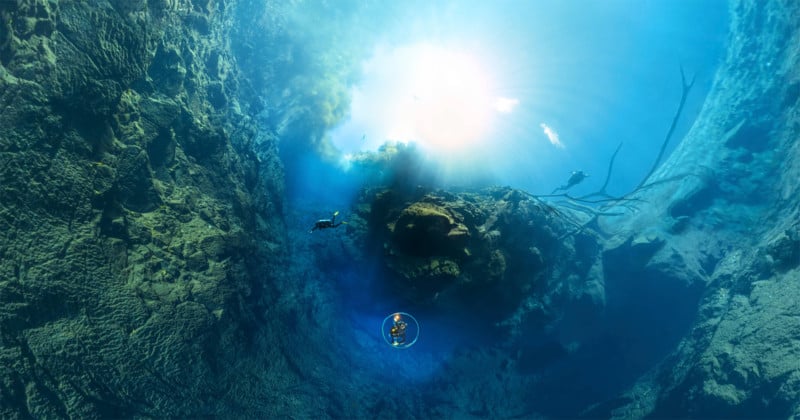 More than two years after actually capturing the image, Brazilian photographer Marcio Cabral has officially been granted the Guinness World Record for the "World's Largest Underwater Panoramic Image." The incredible 826.9MP photograph is made up of 28 shots that all had to be taken from the exact same spot… while diving… underwater.
The photograph was captured on August 31st, 2018 in the Lagoa Misteriosa (translation: mysterious lagoon) in in Jardim, Mato Grosso do Sul, Brazil. Lagoa Misteriosa is a transparent "lake" at the bottom of a sinkhole so deep that no diver has ever found its bottom.
For the photo itself, Marcio tells us that he used a Canon 5DSr with a 16-35mmn f/4 VR lens inside an Ikelite housing with an 8-inch dome. He also used an internal correction lens, which is designed to correct image aberration and distortion caused by wide-angle lenses when shooting below a dome port.
To set the new record while creating as engaging an image as possible, Marcio used a custom ISO to improve dynamic range—his ISO ranged from 200 at the zenith to 800 at the nadir where its darkest—and employed several fellow divers as "models." For reference, the bottom part of the image shows a diver inside a spherical "bubble." That diver was floating around 20 meters (~65 feet) while Marcio shot the pano from a depth of about 18 meters (~59 feet).
All of the images used had to be made in the same place to avoid parallax errors—24 individual frames taken from the same location, plus 2 Zenith images and 2 Nadir images. Obviously there's no way to capture the full scope of the image in a single flat 2D shot without leaving something out. Even Marcio typically shares it as two different images: an equirectangular projection and a zoomed in piece of a little planet projection:
However, you can browse through the entire photo in this interactive version from 360cities. If you have VR glasses, put them on and tap the VR icon in the top right to get the full experience:
In case you're wondering why it took so long to validate this record, that's because (for obvious reasons) there wasn't an official "adjudicator" present when the photograph was captured. According to a Philip Robertson, an actual Adjudicator at Guinness:
Records can take a fair amount of time to gather evidence for, and having witnesses sign off […] The evidence review process can also take several months, depending on the complexity of the evidence and record category.
Finally, Marcio was careful to point out to us that there are other underwater images larger than a few gigapixels, but they are not panoramas because they were not taken from the same point of view. Rather, they are "photo mosaics" that are used for other applications such as underwater mapping and cannot be viewed in virtual reality.